EXCURSIONS
Adrspach National Park
Karlovy Vary (Carlsbad)
Marianske Lazne
Ceske Svycarsko (Czech Switzerland) National Park
Terezín
Valtice-Lednice Castle
Vienna, Austria
Budapest, Hungary
Excursions vary per term. Please visit www.studiesabroad.com for most up-to-date information.
WHAT'S INCLUDED
Official transcript from host university
Tuition at host university
Room and board
Tutorial assistance
Full-time resident staff
Excursions
Excursion transportation
Medical insurance
Internet access
Student services
Cultural activities
Airport reception & transfers
On-site ISA office
Language exchange (depending on the session)
Visa support
Pre-departure advising
On-site cultural and academic orientation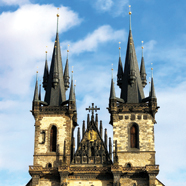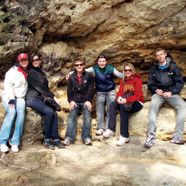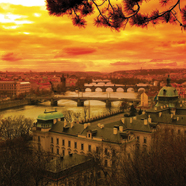 Prague
International Business & Economics
University of Economics, Prague
---
Semester/Academic Year
The International Business & Economics program offers a variety of courses focusing in International Business, International Economics, Globalization, Finance, Communications and more. Students study in the Central and East European Studies (CESP) division of the University of Economics, Prague with other international students. With several corporate partners and memberships to organizations such as CEMS (Community of European Management Schools) and PIM (Partnership in International Management), UE is recognized as one of the most prestigious universities in Europe for Economics.
All courses are instructed in English, with the exception of the Czech language course. The courses are taught by host university faculty (native Czech professors and business professionals) and are held in the UE's newest addition to its campus in central Prague, a ten-minute walk to the ISA Prague office. To ensure a fuller cultural immersion, ISA students must enroll in beginning Czech language, unless they have already completed one semester of college-level Czech language prior to their participation in the program. As an added cultural benefit, all students participating in this program are paired with a local Czech student throughout their semester abroad, in the "Buddy System" program offered through the CESP.
---
Eligibility
Minimum Grade Requirement
Students must have a minimum grade point average of 2.50.
Minimum Admissions Prerequisites
*Students must submit two passport-sized photos and a CV (résumé) with their ISA application.*

If students do NOT plan on enrolling in a Czech language course, they must have completed at least one semester of college-level Czech, or the equivalent, to participate in the program. The equivalent of one semester of college-level Czech is 3 years of high school Czech.

There is no language prerequisite for this program if the student does plan on enrolling in a Czech language course.
---
Course Information
Course Disclaimer
Course placement is often based on a placement test administered on-site
There may be mandatory prerequisites for some of the courses offered
For a specific list of course prerequisites, please refer to the course listing/course descriptions for this program on the ISA website