GlobaLinks Learning Abroad
Swansea University
Who Should Apply
Applications are welcome from students who have achieved at least a 2.8 GPA. Students must have completed at least 2 years of full-time university study by the time of study abroad. Areas of study include classes in business, computer science, economics, engineering, law, liberal arts, math, media and communication studies, physics, psychology, and social sciences.

Overview
Founded in 1920, Swansea is a vibrant, research-led university at the forefront of academic and scientific discovery. Swansea University has nearly 12,000 students and offers over 500 undergraduate courses in a wide range of subject areas. A full range of social, cultural, and sporting amenities complements the campus lifestyle and contributes to the strong sense of community that the University embraces.

Recent surveys and league tables have consistently placed Swansea among the top 20 universities in the UK for teaching quality and student satisfaction. The results reflect the University's aim to deliver an outstanding student experience alongside high quality teaching that produces graduates equipped for exceptional personal and professional achievement. In addition, Swansea University is the recipient of the third largest research funding in the UK, and the School of Engineering is ranked in the top three in the UK.
Academic Highlights
Swansea has developed a 2-week upper-level class on "British Culture and Politics Since 1945" for study abroad students. GlobaLinks Learning Abroad students will all participate in this intensive module, which includes several excursions and takes place during the two weeks prior to the start of each term.

Swansea University offers a diverse range of subject areas in which you can choose to study. In all instances you will be fully integrated with UK students. Classes are available in American Studies, Ancient History and Egyptology, Applied Social Studies, Business, Computer Science, Economics, Engineering, English Literature, History, Law, Mathematics, Media and Communication Studies, Physics, Politics and International Relations, and Psychology.

Swansea also offers a part-time internship opportunity for study abroad students in the spring.
Location
Swansea University is set in rolling parkland overlooking the majestic sweep of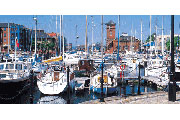 Swansea Bay. The campus is a stone's throw from the old fishing village of Mumbles, with a unique seaside atmosphere complemented by a vibrant social scene popular with students. Travel just a few minutes in the other direction and you reach the Maritime Quarter, a modern waterfront village complete with restaurants, art gallery, theater, and a busy marina.

The Gower Peninsula, Britain's first "Area of Outstanding Natural Beauty," is within easy reach from the University. Unspoiled beaches and dramatic cliff-top views provide a stunning location for water sports, cycling, and walking. Swansea's world-famous indoor market offers traditional, locally-produced food. Theaters, museums, and galleries enhance Swansea's rich cultural diversity.
Housing
Most of the University's self-catering accommodation is at Hendrefoilan Student Village. It is a two and a half mile bus ride from the campus, just off the main Swansea to Gower road, set amongst mature woodland with open grassy areas. Students from each house or flat share a bathroom and kitchen facilities.
Swansea University is set in rolling parkland overlooking the majestic sweep of Swansea Bay. Swansea itself is a lively city of 230,000 people. Its friendly shopping center includes a world-famous indoor market that dates back to the Middle Ages and offers traditional, locally produced food. Theatres, festivals, museums, and galleries enhance Swansea's rich cultural diversity. London is less than three hours away by train, Cardiff an hour.
About GlobaLinks Learning Abroad Programs
GlobaLinks Learning Abroad programs are created with individual student's goals in mind. Our programs are built around a unique Discovery Model which is delivered by our amazing staff, both in the U.S. and overseas. Our Discovery Model provides every student with an individualized experience through discovery in 5 key areas: personal, academic, cultural, social, and professional. Our North American staff counsels each student through the application and enrollment process, and our on-site Resident Coordinators set up a calendar of activities for students related to each area of discovery. These activities are more than just tourist excursions, and include opportunities like networking events, local festivals, gallery openings, and other similar events that you can't find in a travel book.

GlobaLinks Learning Abroad programs include everything you would expect in a study abroad program: guaranteed housing, 24-hour in-country support, an in-country multi-day orientation program, comprehensive pre-departure services, and discovery activities to make the most out of each student's experience. Students of all majors are welcome to apply, and no prior language skill is required even for foreign-speaking destinations as some or all courses are taught in English at each university. Scholarships are available.
Contact Us