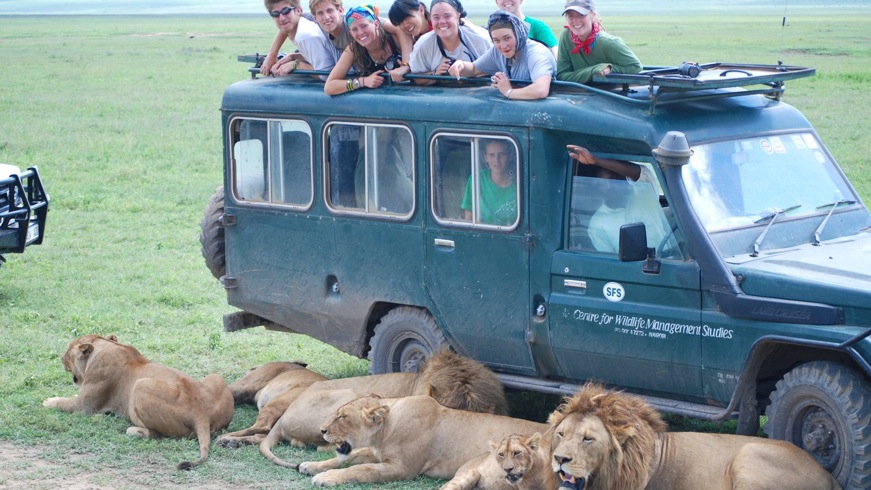 PROGRAM DESCRIPTION
Northern Tanzania, home of world famous national parks such as Tarangire, Lake Manyara, Kilimanjaro, Arusha, Serengeti, as well as the Ngorongoro conservation area, offer a tightly packed hub of wildlife conservation. This magnificent setting on the Maasai Steppe will be our 'learning laboratory'. Expeditions to the national parks will be frequent. This area of Tanzania is extremely scenic and is the center of nature tourism in the East Africa region.
Traditional pastoralism is also practiced here in what has been the home of the Maasai and Iraqw people for centuries. Northern Tanzania is a place where members of local communities interact with wildlife on a daily basis. For these reasons, this area provides an excellent opportunity to examine some of the challenges and opportunities of conservation in Tanzania, including human-wildlife interaction.
Students will be exposed to a rich array of issues related to wildlife management and conservation, and in methods and practices in wildlife field research. Summer sessions are presented by SFS faculty and guests who have years of field experience and grounded knowledge of the area. Field lectures and field trips will comprise a critical component of this summer program.
OVERVIEW
Students learn about wildlife management practices and the complex issues involving sustainable wildlife conservation in the Tarangire-Manyara ecosystem of Tanzania. The course combines concepts and principles of ecology, natural resource management, and socioeconomics, all of which are central to effective and sustainable wildlife conservation. During the course, students develop field skills to explore the ecology, social organization, and behavior of common African large mammals.
Central to this first summer session is the understanding and evaluation of protected areas in the region, and students learn methods to examine the complexities of conserving wildlife in protected areas amidst a rapidly changing socioeconomic and political environment. In addition, students learn about constraints to the conservation of wildlife among resource-poor rural populations and identify key aspects of human-wildlife conflicts.
This course may be taken independently or in combination with the Techniques for Wildlife Field Research course (Tanzania) or Public Health and Environment (Kenya) in Summer Session II.
BENEFITS OF TAKING BOTH COURSES
Students participating in two summer courses in Kenya or Tanzania are eligible for a $500 discount.
Students earn 8 credits
Home school financial aid may be applied toward the program
Earning 8 credits likely will allow students to qualify for federal financial aid, depending on their particular situation
There are no prerequisites
Possible SFS travel grants may apply for airfare
FIELD EXPEDITIONS AND EXERCISES
Learn about social organization, basic taxonomy, and conservation status of charismatic large mammals in African savanna ecosystems; go on game drives in world famous national parks and conservation areas; practice field observation, game counting, and behavioral study techniques of savanna species
Travel on field lectures to study changing land uses among pastoral communities and implications of these to wildlife and environmental conservation
Visit local villages and group ranches to understand local organizational components and community dynamics related to the challenges of rural livelihood and wildlife conservation; develop recommendations and potential solutions to conservation challenges in Tarargire-Lake Manyara ecosystem
HOUSING
Students will stay at Moyo Hill Camp, our field station in Tanzania under The SFS Center for Wildlife Management Studies. Students will live in the Manyara area, about a 10 minutes drive from Lake Manyara National Park and a half hour from the famous Ngorongoro National Park. This wonderfully scenic area, world-renowned for its beauty, geography, history, and wildlife, is perched on an escarpment overlooking the Rift valley and the Ngorongoro Hills, with plenty of hiking trails to enjoy.
The diverse habitat surrounding our Kilimanjaro Bush Camp (KBC), which is close to the Tanzanian border and Mt. Kilimanjaro, is used by wildlife as a migration corridor between Tsavo, Chyulu, and Amboseli National Parks. The KBC research is framed by the needs of dispersing and migrating wildlife between the wildlife dispersal areas of Amboseli National Park on the west and Tsavo West–Chyulu Hills National Parks in the east; the conflicts between wildlife, livestock and humans in the group ranches which occupy the spaces between the protected areas; and the changing human community and land use patterns of non-Maasai cultivators and Maasai livestock herders in these previously Maasai owned and occupied spaces. The Maasai, and now other settlers, very much depend upon this same area as a communal grazing zone for livestock as well as for growing food, now bringing about localized overuse of natural resources. As a result, they often face economic hardship due to crop damage, loss of livestock, and sometimes personal harm inflicted by migrating wildlife.
Student interviews with local Maasai gather data on the priorities and challenges of addressing wildlife conservation among resource-constrained communities - a critical first step in developing integrated land-use strategies that will enable residents to derive optimal benefits from their land and forestall additional fragmentation of key wildlife areas.
While based at our National Park Camp, student research focuses on the needs of the wildlife, which are on protected land when in the Park, but on private land when in the dispersal area; and the needs of the people which are excluded from the Park but are exercising their rights as landowners to settle and cultivate, or develop industry on their land making up the dispersal area. This increased development around Nairobi National Park threatens its biological integrity and has led to the precipitous decline of large mammal populations. Pollution and climate change threaten the already strained water supply and play a role in the mortality of numerous birds and animals. Increased human and livestock populations in areas surrounding the park are leading to intensified human/wildlife conflicts, including disease, predation, and destruction of crops by migrating wildlife. The inevitable encroachment on Nairobi National Park is stimulating intense debate as to whether the best way forward is simply to fence off the Park, such as was done with Nakuru-Hell's Gate, from the dispersal area, leaving the wildlife trapped inside, but at least giving better protection to the Park and its wildlife.
SFS students are assisting the Kenya Wildlife Service (KWS) and managers of the park through a suite of research projects including: vegetation mapping; grazing and browsing impact surveys; large mammal population counts and distributions; educational facility upgrades; and human impact in the park.